Get the Guide
Begin or continue YOUR »Learn Danish journey« today!
Say YES to receive the Guide to FREE resources for learning Danish.
Get the Guide
Danish Meet & Greet Xtra is extra compared to an ordinary Danish Meet & Greet meeting by including a theme.
Themes are choosen by me, Birgit Månestråle, or by you or another active Danish learner.
A theme can for example be:
"a taste of how it is" to participate in an online Danish lesson in a group practicing basic communication
 reading from a specific page in the book: På vej til dansk – trin for trin
 reading from or talking about any learn-Danish-resource, e.g. Duolingo, Super G – grammatik med øvelser, Parlør dansk – at samtale på dansk or Det lyder godt – or one of your favorite resources.
 focus on conjugation of verbs
 focus on conjugation of nouns

Included in the Xtra meeting is also a short introduction by you and the other participants + the opportunity to ask questions about learning the Danish language – and – you might meet a study-buddy or become a member of af self-study-group.
Send your suggestion to a theme plus a suggestion to a weekday and time that suits you by clicking on the button below.
We can also plan a pre-meeting for you and others who have questions about the option: 7 days of Danish plus make it a lesson where you get a taste of how it is to study Danish in a group online.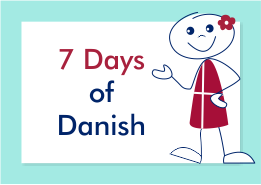 Danish Meet & Greet Xtra meetings are conducted when 3-6 persons are interested.
Participation fee is DKK 250 per person.
We meet online via the platform Zoom.
When I have received your payment, I will send you a link that gives you access to the online meeting room.
when you want to suggest a theme or when you want to know the upcoming dates.
Note:
For members of The Community for getting into Danish with Ease approximately 2 Danish Meet & Greet Xtra meetings are included in the monthly subscription.
Other options for Learning Danish with Ease